As I stare out at the ocean as I sit on the ferry that just departed from Manly and is taking us to Sydney Harbor, I reflect on how Pam, Kimberly and I got here.  It was not easy.  Kimberly has been working in Brisbane since May, and Pam and  I flew to Australia to visit her.  This was our second day in Australia.  It felt more like our tenth.  I couldn't even remember what I ate for lunch the day we arrived.  I was that tired.
As I have written about before Pam likes to walk while on vacation.  I like to sit on my butt.  Kim likes to walk even more than Pam does.    For months Kim and Pam have been planning our first few days in Australia.  Their planning did not bode well for me.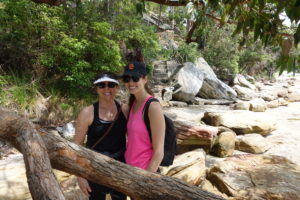 Yesterday was bad enough.  Pam and I landed in Sydney around 11 AM, and Kim met us at the airport, having flown in from Brisbane.  The rest of the day passed in a blur.  We walked about 18,000 steps all around the Sydney Harbor.  We ate lunch at a restaurant in the Rocks area.  We saw the bridge and the Opera House.  We toured the botanical gardens.  We drank beer at the bar just outside the Opera House.  I was jet lagged and had a sore foot, which I seemed to have injured before we left, and struggled to keep up with the two of them.
Today was tougher.  Last night we discussed today's activities.  They involved walking, lots of walking.  Kim said it was about a 10K walk from Spit to Manly.  We were going to Uber to the starting point in Spit.  I was debating whether I would just drop them off and Uber to Manly, as I was questioning just how far I wanted to walk.
We spoke about it some more, and Kim intimated that I should start with them and then decide what to do.  I visualized a stroll down the Santa Monica bike path alongside PCH with access to facilities and Uber, should I want to bail out along the way.  I said so.  Kim, having completed the walk before, seemed to agree.  Or at least she did not disabuse me of my misguided notions.
As I sat in the ferry thinking about my conversation with Kim the night beofre, I felt that her lack of concrete information about the difficulthy of the walk bordered on elder abuse.  When I called her on it, she simply stated that she had forgotten the details.  I somehow doubt the veracity of that statement.
The Uber driver dropped us off in Spit.  I made a few jokes about salivating on the way.  We left the Uber, and began our walk by traversing the Spit bridge.  Once over it, we were on the edge of the water.  I quickly realized that any hope for a simple stroll down a bike path was a pipe dream.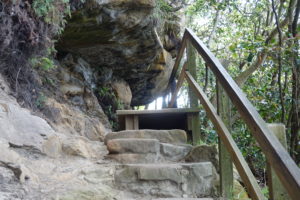 Pam and Kim walked along the trail.  I plodded behind them.  I was still jet lagged.  My foot still hurt.  To top it off I was ill prepared for the walk.  I was not hydrated.  I was not carrying any water.  With all due respect to the Grateful Dead, I was not anaesthetized, as I was not living on reds, vitamin C or cocaine.  Instead, I was fueled with a couple of dollops of chocolate and some caffeine.  Not exactly good preparation for what I was experiencing on the walk.
I had planned for an Uber assisted stroll.  Instead I found myself in the middle of a 17,000 step, three hour walkathon with enough elevation changes to climb 35 flights of stairs over rocky, irregular terrain in a nature preserve.  Uber was not an option.  I would have needed to be airlifted to a place with roads and cell phone reception before I would have a chance to even request a ride.   I had been suckered into this, and Kim knew it.
Once reality set in, I settled down and focused on the walk.  Arguably, it was one of the most magnificent walks I have ever taken.  The scenery was amazing and the foliage was beautiful.  We climbed and descended.  At times we were amidst the trees with no view of the ocean.  Other times we walked across sandy beaches.  Unfortunately for me, the path was U shaped, and I could see our ultimate destination way before we arrived there, a destination that appeared tantalizingly close but stubbornly refused to get any closer with each step I took.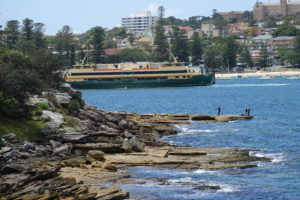 We met many nice people on the path  There were options to take side trips along the way.  We did not take them. The direct path was enough for us.  A trio of walkers, opting to take the detours and explore the various nooks and crannies,  passed us multiple times.  It  became quite a joke when they passed us for the fifth time.
Eventually, we made it to Manly, and after a trip to the tourist information kiosk we found ourselves ensconced at Hemmingway's overlooking the ocean.
Manly is a great beach town.  It has a great vibe and lots of street vendors.  I found one that was selling a tee-shirt with an image of a hand painted 911 on it that made my day.  It also made the artist's day, as I bought it.
Hemmingway's was touristy but decent.  The best parts about it were the view and the shirts worn by the staff which had a sage Hemmingway quote on the back, reminding us to listen before we act, earn before we spend, and, most importantly, try before we quit.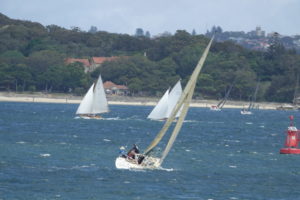 While sitting on the ferry watching the sailboats, I mulled that quote over for a bit.  Soon  I realized that I had had a great day.  Great enough to almost forgive Kim for her blatant omissions.