It's been quite a while since I drove my 89 Carrera in and around Malibu. First, I got busy. Then I drove it to Rennsport in Monterey at the end of September. Then I got busier. Then its battery died. Then Malibu burned. Then I went to Australia. Then I got a new battery. Finally, on the weekend before Christmas, just about three months since my 800 mile jaunt to Rennsport and back, I had time to get the 911 onto the twisties above Malibu.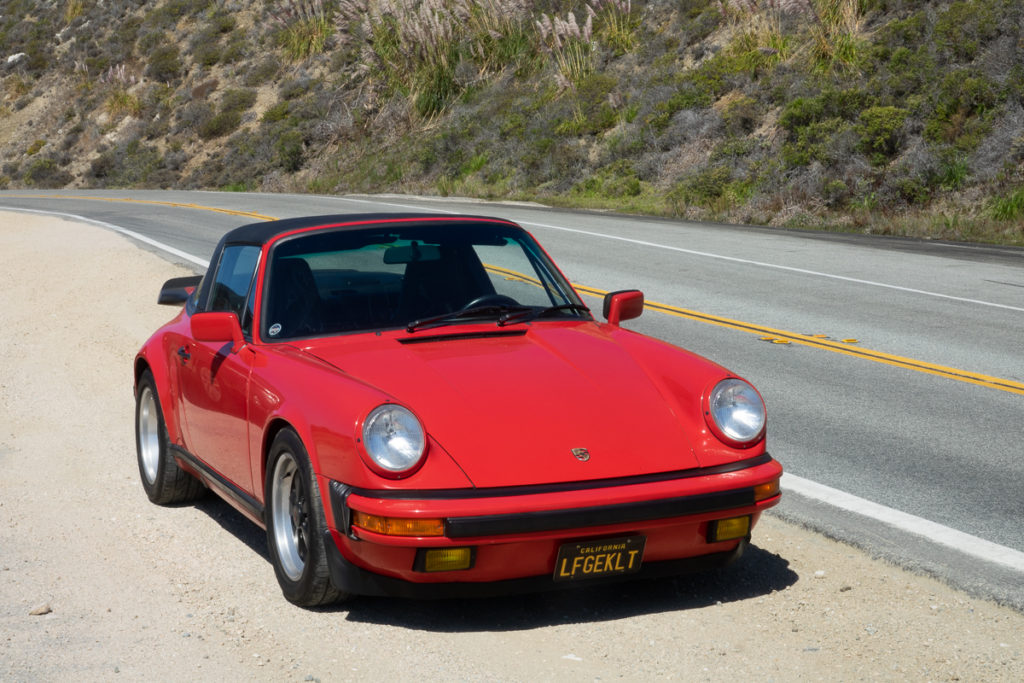 I began my drive early on Saturday morning with an easy ride up Pacific Coast Highway to Ollo to attend the PCA LA monthly breakfast. It was the last breakfast of the year and the turnout was great. The selection of cars in the parking lot was even greater, as there were GTs galore, including several 3s and 3RSs, a Carrera and a 2RS, which was somewhat unusual, even for Malibu. The lot also had a couple of McLarens hanging out with the Porsches. All in all, quite a display.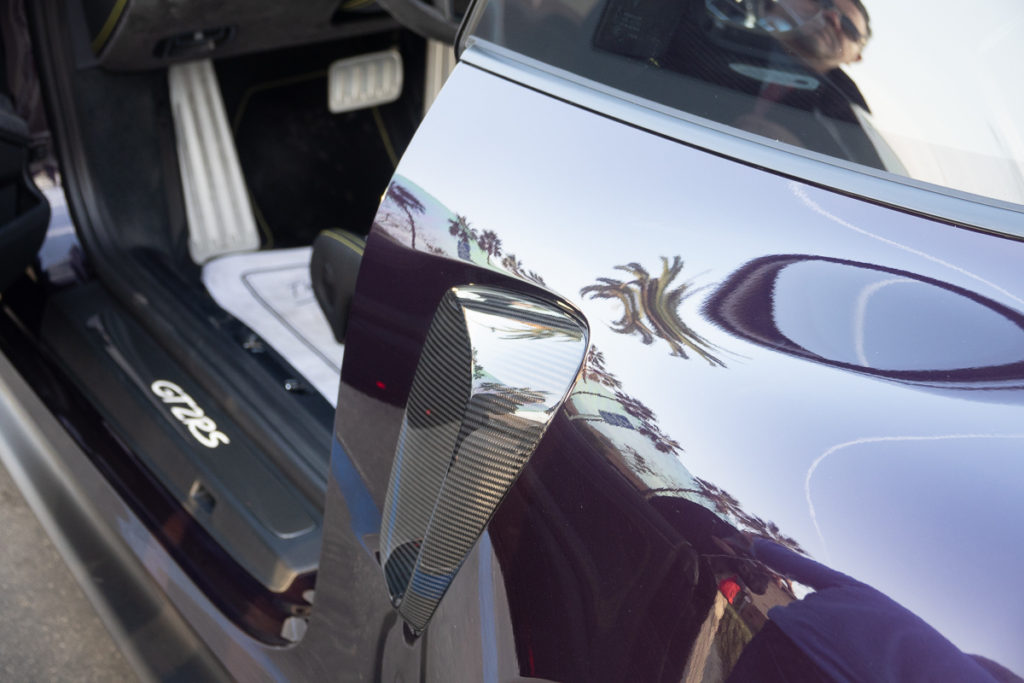 After a fun breakfast, it was time to drive. I had no intentions of hitting it hard. I just wanted to zone out on the backroads above Malibu. Somewhat morbidly, I also wanted to see just how beaten up the canyons were after the horrific wildfires in November. I had seen my fill of burnt landscape on the news, as we all did at the time, but I wanted to see it first-hand.
I headed north on PCH. Past Las Virgenes Canyon. Past Pepperdine University. Driving past beautiful coastal scenery spared from the ravages of wildfire. As I got close to Kanan Dume, random areas reflected the destruction caused by the fires. I did not see burned homes or structures, just a few splotches of darkened acreage.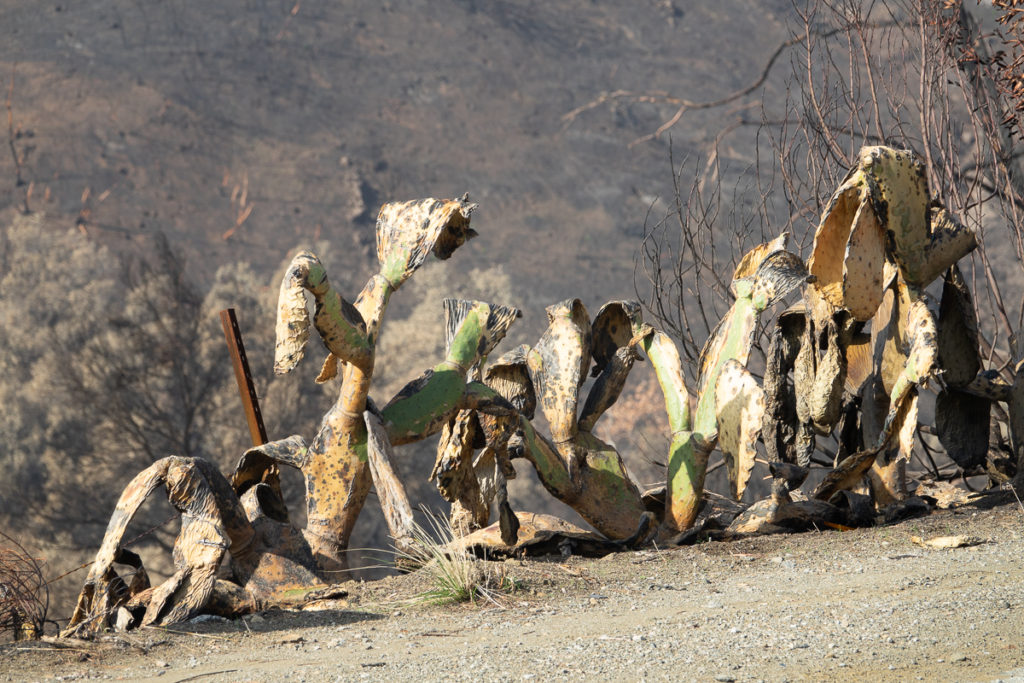 I continued up PCH until I turned inland on Encinal Canyon, one of my favorite roads and one of the most scenic drives in the area. Normally when I drive Encinal, it is an adrenaline pumping, exhilarating experience, as I drive with a grin plastered on my face, with my engine screaming, with my windows down, and with my iPod cranking. This time was more than a tad different.
I did not grin. My adrenaline did not pump. My engine did not scream. Obviously, I was not exhilarated. Instead, I cruised in awe. The news coverage had informed me of the thousands of acres burned. But those were just numbers. Logically, I could interpret the scale of the event, but I really could not imagine it. That all changed during my drive, I just gaped at the scope of the destruction, the charred ground, the barren hillsides, and the remnants of burnt trees. A few times I had to not so subtly remind myself to look at the road, as I just kept staring at the hillsides.
My intent was to take Encinal to Mulholland Highway and traverse it past Kanan, head down the Snake, go past the Rock Store and then take Las Virgenes back to PCH and then head home. I knew that the fire had burned the terrain around the Snake, and though the fire had burned right up to the Rock Store, the iconic moto hangout situated on Mulholland, had survived. As I got to Kanan, though, I knew I had seen enough. I no longer had a desire to see more destruction. I just wanted to get home. So I omitted the Snake and the Rock Store, turned onto Kanan and headed back to the coast.
It was a somewhat somber ride home. I was lost in my thoughts, at times driving well below the speed limit, as I processed what I had seen. I could not imagine what it was like to live in the area or to try to fight the fire.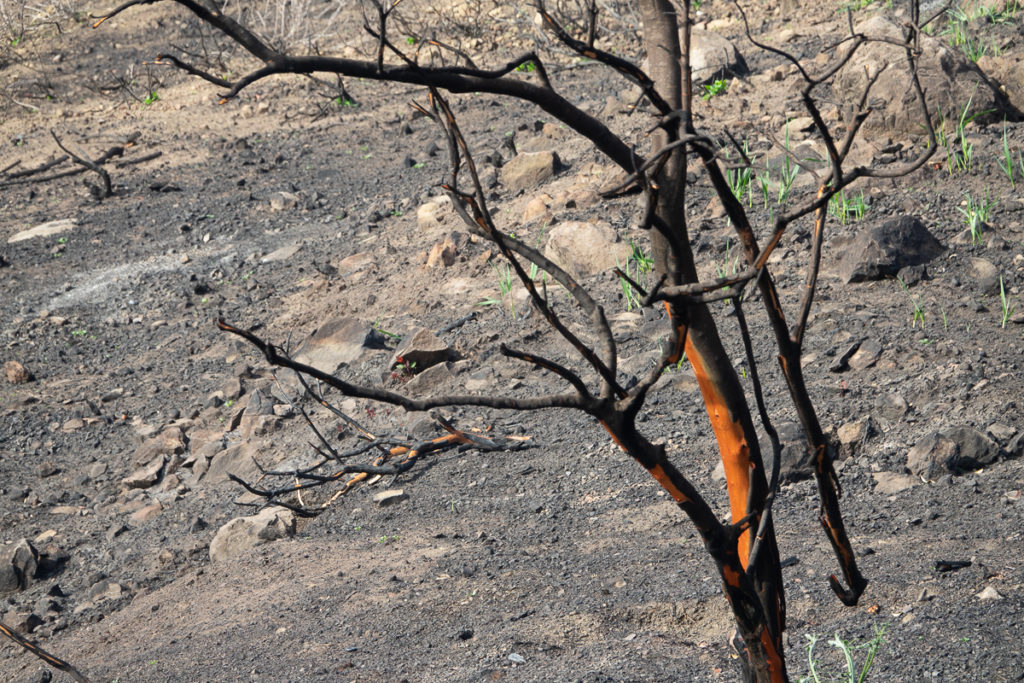 I did, thankfully, notice that there were pockets, tiny pockets, of green along the way. I tried to keep my focus on those pockets as I drove home.