We are in an Uber heading to Coogee for another one of Kim's scheduled walkathons.  This one will take us from Coogee to Bondi Beach.  It is Sunday, the day after our trek to Manly.  Kim has said this one is more like the mythical stroll along the bike path I fantasized about the day before.  Or at least that is what I inferred from our discussions at dinner last night.
Last night we Ubered to Bondi Beach for drinks at the Iceberg Pool and then dinner at North Bondi Fish.  It was excellent, and we had a good time.  The Iceberg pool is freezing, as it is filled with sea water.  It is one of the most magnificent settings for a pool that I have ever seen, as it juts out into the Pacific with waves breaking over its walls, threatening to swamp the swimmers.
But that was last night.  As we exit the Uber today, I am a little leery and more than a little sore.  Today's walk is a paltry 8K on, as Kim assured me, paved surfaces.  The scenery in Coogee, at the start of the walk, is magnificent.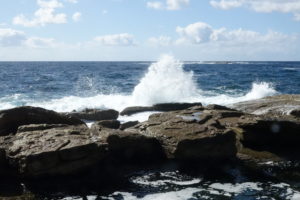 As we walk, we pass many beaches.  Kim, who vacationed here, in January, pointed out all the areas in which she has swum in the ocean and all the pools in which she has swum.  I couldn't help it, but the image of the 60s movie, The Swimmer, starring Charlton Heston, flashed through my mind as she pointed out each of the locations.
Kim was right.  The walk was paved and, though we went up and down, it was pretty close to a jaunt down the bike path in Santa Monica.  Whereas the scenery on our walk from Spit to Manly had a nature preserve feel, the walk from Coogee was pure beach.  The scenery, in every sense of the word, was spectacular.  While not crowded, the path was full of beach people, from musclebound Muscle Beach types to families, with every other type in between.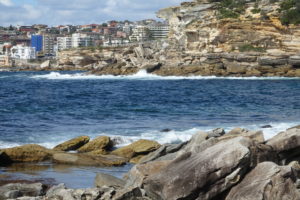 Our plan was to walk to Bondi and then meet Kim's friend, Anna and her brother, Joe, at Shuk Café,a local place for brunch.  Of course, Kim did not tell us just how far into Bondi we had to walk.  I assumed we would be eating in the touristy part of Bondi.  I was sorely mistaken as we continued to walk right past that area into the more residential areas surrounding the world famous beach.
As we walked, the weather changed.  We had bright sunshine while we walked to Bondi.  Once there, the clouds rolled in and we were splattered with rain drops.  We arrived before Kim's friend and waited.  Judging by the crowd, Shuk, an Israeli restaurant,  was a popular destination.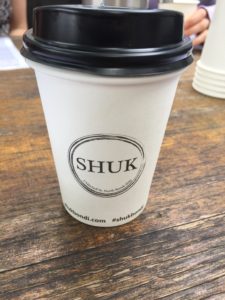 While we waited we shared a couple of Danish, and I had a coffee, a long black, as the Aussies refer to an Americano.  The Danish were great, as was the coffee.  Soon, Anna and her brother arriced, and we were seated.  We had a great time.  The food and company were great.
Pam ate Teff pancakes, which she loved, Kim had scrambled eggs and toast, which she liked, and I had Sshakshuka, a new dish for me, that I really enjoyed.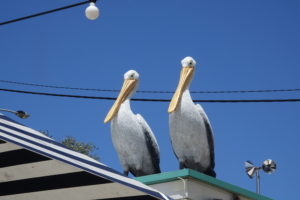 We finished eating and Anna drove us to Watsons Bay, where we planned to catch the ferry to Sydney Harbor.  There had been some speculation that we might walk to Watsons Bay, but thankfully we were driven.
Watsons Bay is a cool little area.  We had drinks at the Watsons Bay Hotel prior to boarding a ferry to head back to Sydney Harbor.  While sitting in the hotel patio, we shared a table with a a couple of nice people and enjoyed our time there.  The ferry ride back to Sydney was fun.