For those of you who know me you would be wrong in assuming that my title, More Than The Street, relates to one of my somewhat infrequent visits to the race track in my Porsche.  Very wrong.
If you knew Pam was involved, you would know that it does not relate to anything having to do with automobiles, but you would have an inkling that it is related to something current.  I tend to live in the past.  One of my cars is 30 years old.  One of my watches, Pam's late stepdad's Omega Speedmaster, is 34 years old.  I wear it all the time, even though it requires winding every day.  Staying current for me is nice, but not a necessity.
If you know Pam, you know that she is all about being current, staying relevant.  Downtown LA is a happening place.  Until recently, our younger daughter, Kimberly, was living downtown.  Kim and Pam went to many of the fun, Instagram moment exhibits that pop-up downtown.  Exhibits like the Ice Cream Museum and The 14th Factory, among others.  They usually go together, and enjoy some great mother daughter experiences while staying current.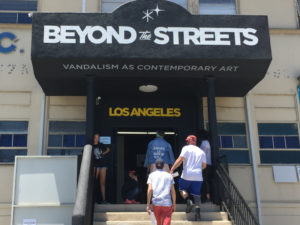 A new pop-up art exhibit, Beyond The Streets, opened in downtown recently.  The exhibit features street artists and street art.  Its tag line refers to vandalism—literally—as contemporary art.  Pam wanted to go, and as Kim is spending the year working in Australia, she invited me.
I freely admit to being underwhelmed by most 20th Century, or later, art, especially the pieces created after the Impressionism era, pieces that are defined by symbolism, cubism, futurism, or a host of other isms.  I look at them, and they leave me floundering.  I lack the insight and/or the ability to relate.  Because of that, I like very little of it.  I have been to the Broad a couple of times, most recently to see the Jasper Johns exhibit.  I just stare at most of the pieces.  Other than Warhol and some of the Pop Art stuff, I leave scratching my head in disbelief.  I have been to the Museum of Modern Art in New York.  More disbelief.  I have been to the Picasso and Miro museums in Spain.  More disbelief, though I liked early Picasso works, before he got the blues.  I have been to the Guggenheim in Bilbao.  Even more disbelief, though I loved the building.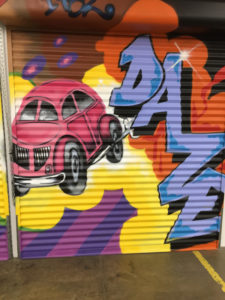 I am also usually politically incorrect.  I prefer labels that explicitly state the obvious, not labels that soften the impact of the words.  Sayings like vertically challenged, reality challenged and sex care provider also leave me scratching my head in disbelief.  Though I do chuckle when bribes are referred to as public sector bonuses.  As a result, I have never bought into the term Street Art.  I just considered it a politically correct way to refer to Graffiti, which literally means writing or drawing on public or private property.  In short, vandalism—not something to which a suburban dwelling, middle class, unhip, reasonably irrelevant, curmudgeon-like boomer is going to appreciate or pay much attention.
I like hanging out with Pam, though, so I decided to go to the exhibit with her, not really expecting to enjoy it.  I knew nothing about the artists or their art.  I really had no idea that spray paint wielding graffitists had transcended from the street to the studio.  I really had no idea any of them had followings or showed their works in respected galleries.  But then I am not current.  Thankfully, Pam is.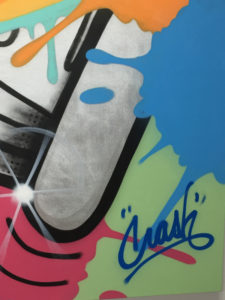 Our older daughter, Shelby, and her husband, Bryan, joined us when we went to see the exhibit.  Shelby and Bryan are consistently current.  They do not even have to work at it.  But then they are millennials, and they are the current generation.  They know about street art and street artists, which helped me get into going to the exhibit.  It turned out that I did not need their help.
As I wandered around the 40,000 square foot exhibit curated by Roger Gastman, I shook my head in disbelief, not because I didn't like it, but because I did.  There is no doubt that I will never fully understand or relate to street art.  I did not grow up with enough angst.  I do not have that "stick it to the man" mentality, which is necessary to really get into it.  The most rebellious I get is listening to country music in West LA.  Having said that, lots of the art, even the more gritty pieces, resonated with me.  For a brief time, I felt like Mikey in the infamous Life Cereal commercial.  The pieces resonated in a way no other modern art has.  I am not sure why.  I really do not need to know.  I just liked it.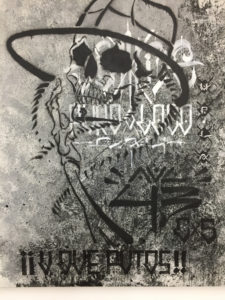 No doubt that some of the pieces bordered on the type of modern art I do not like, but a lot of it was great.  I found the works of Kenny Scharf, Banksy, John "Crash" Matos, Eric Haze,  Faile (Patrick McNeil and Patrick Miller), to name a few, to be really interesting.  I expect I will be spending more time looking at and appreciating street art in the future.
Thanks to Pam, I am current for the moment.  Too bad it won't last.